RUBBER HOSE
POLIAX UPE SM EN 12115
code poliax-upe-sm-en-12115
Print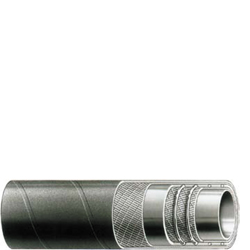 Download factsheet
composition:
Tube: Translucent, smooth, non-conductive ultra high molecular weight polyethylene (UHMWPE). Reinforcement: Synthetic textile fabrics, embedded steel wire helix and built-in copper wires to allow the electrical connection between hose and couplings.
purpose:
POLIAX UPE SM EN 12115 is suitable for suction and delivery of a wide range of highly aggressive chemicals such as most industrial acids, alkalis, oils, fuels and solvents. It can also be used as a flexible connections in paint plants. Suitable for suction and delivery of all foodstuff containing also animal or vegetable fats and oils, according to national and international norms. Refer to the Chemical Resistant Chart to determine compatibility with specific chemicals. For severe or special applications – for tighter bending radius – or if in doubt, please ask our Technical Assistance.
characteristics:
Cover: Black, antistatic (R < 1 M Ω/m), EPDM rubber compound, heat, abrasion, ageing and weather resistant. Other colours available on request. Temperature Range: -15 °C (+5 °F) to +100 °C (+212 °F). For aggressive chemicals and solvents the hose is intended to be used at room temperature. The hose can be cleaned and sterilized with usual detergents or steam – a temperature of +130 °C (+266 °F) for short periods. Suction: ≤ I.D. 63,5 mm: 0,90 bar (675 mm Hg); > I.D. 63,5 mm: 0,80 bar (600 mm Hg). Tolerances: According to EN 12115. On inside diameter: I.D. 19 - 38 mm: ± 0,50 mm; I.D. 50 mm: ± 0,70 mm; I.D. 63,5 - 100 mm: ± 0,80 mm. On outside diameter: O.D. 31 - 51 mm: ± 1,00 mm; O.D. 66 - 91 mm: ± 1,20 mm; > O.D. 91 mm: ± 1,60 mm. Length tolerance: ±1%.
| | | | | | | |
| --- | --- | --- | --- | --- | --- | --- |
| Referência | Øi Inside | Ø Outside | L (m) | Weight (gr/m) | Pressure (bar) | Vacuum (m H2O) |
| 600.36811530 | 25 | 37 | 40 | 870 | 16 | 9 |
| 600.36811531 | 32 | 44 | 40 | 1.070 | 16 | 9 |
| 600.36811532 | 38 | 51 | 40 | 1.350 | 16 | 9 |
| 600.36811534 | 50 | 66 | 40 | 2.290 | 16 | 9 |