RUBBER HOSE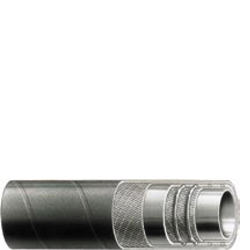 Download factsheet
composition:
Tube: Black, smooth SBR rubber compound. Reinforcement: Synthetic textile fabrics and embedded steel wire helix.
purpose:
Suction and delivery of water and non-aggressive liquids. It is recommended for loading and discharge of storage tanks, tankers, for irrigation and for all applications where a flexible and easy to handle hose is required.
characteristics:
Cover: Black: abrasion, ageing and weather-resistant SBR rubber compound. Temperature Range: -30 °C (-22° F) to +80 °C (+176 °F). Suction Max. 0,8 bar (600 mm Hg). Tolerances RMA steel mandrel. On inside diameter: ≤ I.D. 38 mm: ± 0,79 mm; > I.D. 38 mm: ± 1,59 mm. Length tolerance: ± 1%.
| | | | | | | |
| --- | --- | --- | --- | --- | --- | --- |
| Referência | Øi Inside | Ø Outside | L (m) | Weight (gr/m) | Pressure (bar) | Vacuum (m H2O) |
| 600.36214050 | 25 | 35 | 40 | 830 | 10 | 8 |
| 600.36214051 | 30 | 40 | 40 | 950 | 10 | 8 |
| 600.36214052 | 32 | 42 | 40 | 1.010 | 10 | 8 |
| 600.36214054 | 38 | 48 | 40 | 1.160 | 10 | 8 |
| 600.36214055 | 40 | 50 | 40 | 1.210 | 10 | 8 |
| 600.36214058 | 50 | 60 | 40 | 1.500 | 10 | 8 |
| 600.36214060 | 60 | 71 | 40 | 1.940 | 10 | 8 |
| 600.36214063 | 70 | 81,5 | 20 | 2.590 | 10 | 8 |
| 600.36214064 | 75 | 86,5 | 20 | 2.750 | 10 | 8 |
| 600.36214066 | 80 | 92,5 | 20 | 3.020 | 10 | 8 |
| 600.36214067 | 90 | 103,5 | 20 | 3.660 | 10 | 8 |
| 600.36214068 | 100 | 114 | 20 | 3.980 | 10 | 8 |
| 600.36214070 | 110 | 124 | 20 | 4.340 | 10 | 8 |
| 600.36214071 | 120 | 134 | 20 | 4.730 | 10 | 8 |
| 600.36211010 | 125 | 140 | 20 | 5.660 | 10 | 8 |
| 600.36211050 | 150 | 170 | 10 | 7.730 | 10 | 8 |